Why you should share more than just books on social media.

Marketing 101 – Know. Like. Trust.
For a consumer to purchase anything from you they need to know you; like you; and most importantly trust you. This is true with someone buying a book as much as it's true with buying a car.
There was a time when it was fine to just share your books and never show your face. That time has passed. Now, it's about connecting with your audience and showing them your personality. Basically, you need to be social on social media. But, for authors, I think knowing what to share – other than their books is difficult for them. Most authors think they're boring. This is the most popular comment I get when I tell our PR clients to share personal tidbits about themselves. I can't tell you the number of books and products I've bought because I follow someone on social media and they just seem approachable.
With TikTok exploding and Instagram answering with Reels – it is more important than ever for authors to share a side of them most readers would never see or know. It's your chance to have fun.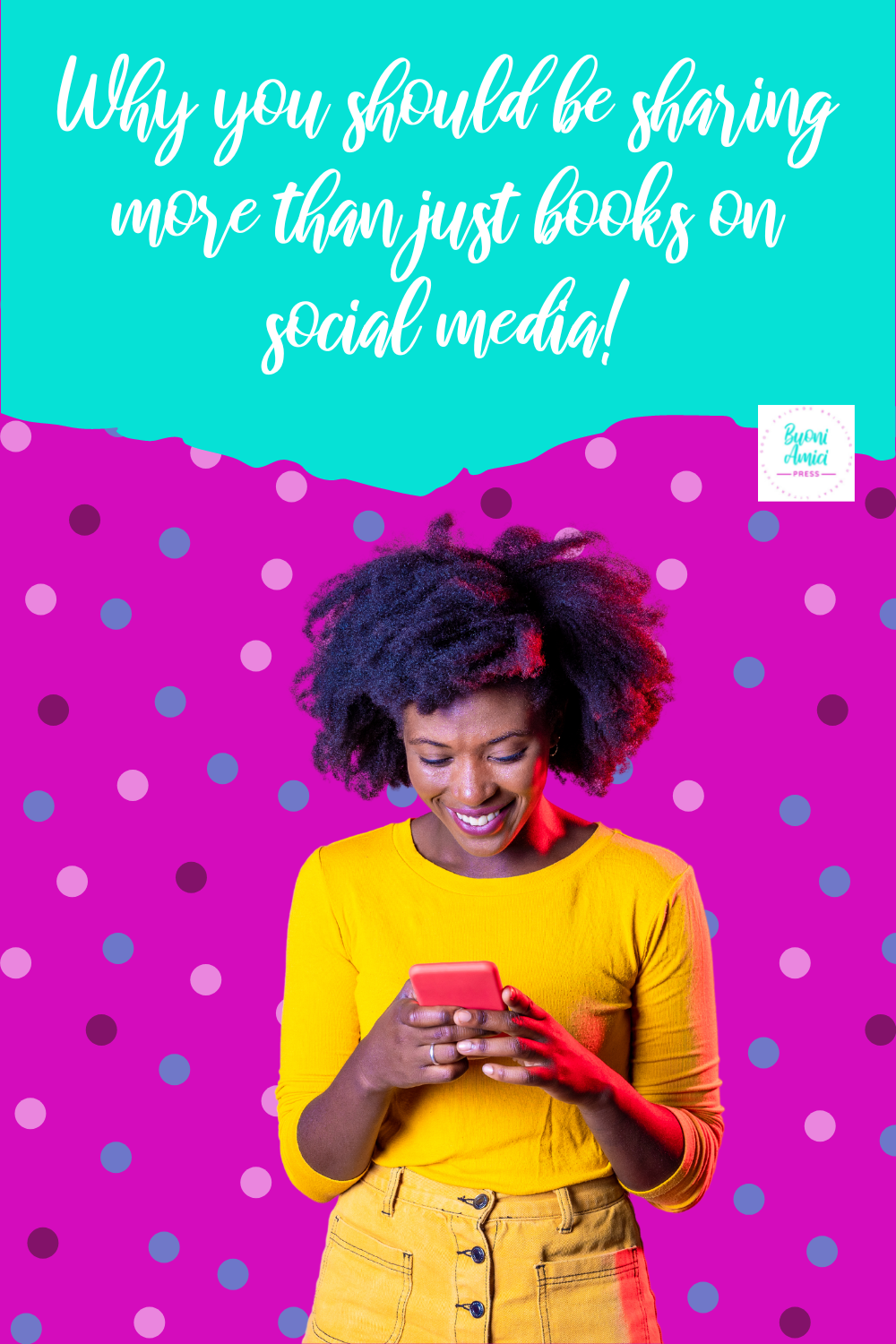 But I don't have the time!
The next most popular answer I get when I tell authors to share more about themselves is basically that they don't have the time. I completely understand that but I challenge you all to make the time. Schedule an hour or two a week (it might be more in the beginning until you get the hang of what it is you're doing) to plan what you want to share; record it/make the graphic/write the copy; and then schedule it.  You can schedule Facebook page posts in Creator Studio, Facebook Group posts right in the group itself, Instagram in Creator Studio (just make sure you've linked your IG business account with your Facebook page) and for Twitter you can schedule tweets within the app. All of these are free – which is great! 
We use a service called MeetEdgar which allows us to schedule posts for us and our authors (up to 25 accounts) and allows them to be evergreen! I have a complete blog post planned for MeetEdgar but if you'd like an early look at them you can go HERE.
Now you need something to schedule right? 
Canva is the way to go for this. You can create easy graphics with their templates for your books but there's so much more you can do with it. If you've not checked out our previous blog post, where I explain why I love Canva so much,  you can check that out HERE. 
So I've squashed the time excuse, now let me dive into why you aren't boring and why it's important. With the constant changes to social media, email marketing (that's your newsletter) and paid advertising it is no longer possible to ignore anything that will help you grow. There was a time you could just concentrate on one platform but now, not so much. That doesn't mean you have to work harder —just smarter, by planning your content in advance (and then of course, schedule it like I mentioned above).
What do you plan though? That's the million dollar question. Well, here's a list of things you can use and feel free to adapt it to fit your genre, personality, brand, etc. If you plan content around this list I guarantee your audience will not think you're boring. They want to see what their favorite author does, likes, eats, places they visit, etc. when they aren't typing away at the keyboard. But if you won't believe me, create some personal posts and track the analytics and see for yourself. 😀
Share More Than Books on Social Media – A list of non-book ideas you can use to post on social media!

(also make videos, create stories on Instagram or do a Live on IG/FB)
Share funny memes.

Have a pet? Share them with your audience.

Have a favorite place you like to visit? Share when you go there or if it's far away share past photos (EG: Throwback Thursday post).

Read a book from someone else – tell your audience about it.

Saw a movie recently – talk about it. 

Have an all-time favorite movie – talk about it; create a poll on Instagram stories and ask who's seen it, did they love it, etc. 

Have a favorite current or past TV show – share about it. 

Have an all-time favorite book – talk about it.

Something crazy happened to you – share about it.

Your morning routine.
This list is just a starting point for you. I bet as you read the suggestions in this list at least 5 to 10 other ideas popped into your head. Write those down now and if you'd like a PDF of this complete list (all 26 suggestions) just fill out the box below to get your copy.